Beach House, Shela Village
This magnificent 5-bedroom private home sits in a commanding position above Shela beach, enjoys wonderful ocean views from its beautiful gardens, roof terraces and dramatic infinity pool and makes the perfect luxurious holiday retreat for up to a dozen fortunate guests.
"Beach House was AMAZING! Thanks to the location there is always a wonderful breeze and beautiful view and although we were a very big group, everyone was able to find their space. We really appreciated the configuration of the rooms which gave us one big room with lots of beds for the children to all stay together – and the pool is great for kids of different abilities and ages. Angelika the manager was very responsive and completely professional, helping us to source everything from tonic water to dhows to fire-dancers – we could not have asked for more from a host. The staff were also very organised and flexible, which was specially appreciated as the group included seven children of varying ages. Last, but absolutely not least, Humphrey the chef kept everyone happy with lovely breakfasts and incredible fish and prawns. We feasted on seafood, salads and pasta for four days and everything was delicious! We loved our stay and will definitely be back!"

Alizee, Nairobi
Beach House sits in a spectacular position at the start of Lamu's wonderful 8-mile beach – the last house on the seafront before the sand dunes start. Just a moment or two from Peponi Hotel and a short stroll from the other low-key attractions of fashionable Shela Village, it is a wonderfully airy and expansive house and the perfect place for a relaxing, private and carefree break at the beach.
Ideal for two or three families or a group of friends, Beach House accommodates twelve to fourteen guests in four double bedrooms and one 'quadruple' bedroom (ideal for children) – all with ensuite bathrooms. On the first floor, raised up above beach level, there is a stunning, edgeless freshwater swimming pool – it has a bar area and low comfortable baraza seating and sunbeds.
Up the first flight of stairs is a large dining and living room, leading out onto an alfresco terrace, shaded by huge entwined acacia and baobab trees. Another door leads onto the wooden deck above the pool – a perfect dining area – and to two double bedrooms with their own private sea-view terraces. The house is simply but beautifully decorated and furnished with Swahili antiques and traditional furniture and exudes tranquility and restrained good taste.
"Beach House is amazing… Angelika the manager is awesome, the staff are great and the homemade ice cream was out of this world!"

Zena, London
The third floor comprises two double bedrooms plus a children's room with 4 large Lamu four-poster single beds and an open terrace with space for sunbathing. From the rooftop with its bar, lounge and two swinging beds guests can enjoy panoramic views across the Lamu Channel – watching fishing dhows return to port, dolphins pass and the moon rise. On the hilltop, in the dunes behind Beach House, one can enjoy sitting in the gazebo with a stunning view of the Indian Ocean and the shoreline of neighbouring Manda Island.
The very experienced resident manager is on hand to ensure that guests have everything they need – assisting with menus and shopping and helping to organise local excursions and activities together with the house's helpful 'meeter and greeter'. A bevy of attentive but unobtrusive staff including two cooks, room steward, waiter, pool attendant and laundress are all there to make stays at Beach House as delicious and untramelled as possible.
Summary
Shela's most prestigious private holiday house
Space, calm and luxury beside the island's beautiful beach
Spectacular infinity pool, gardens, roof terraces and dune-top gazebo
Excellent chefs & staff plus on-site management
Accommodates up to 12 guests in 5 ensuite bedrooms
Resident accommodation rates from ksh 120,000 per night
Location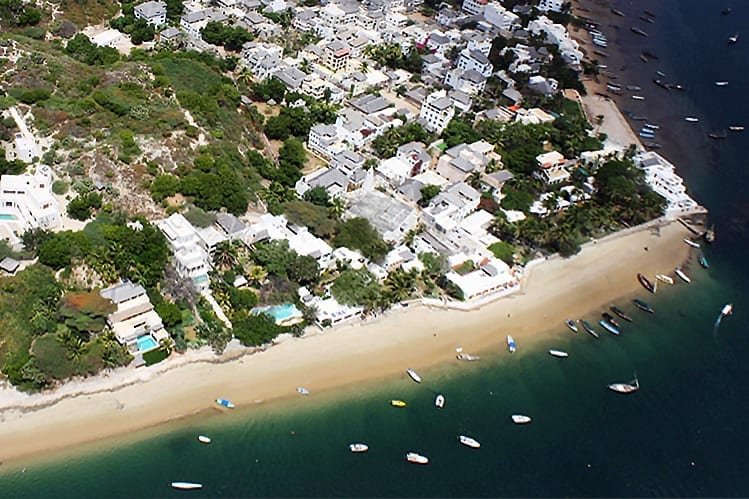 Beach House sits beside and above the beach on the southern fringes of Shela Village, close to the eastern tip of Lamu Island. 8 miles of unspolit beach stretch away beyond the house and Peponi Hotel is less than 100 metres away in the other direction.  Lamu Town is two miles north of Shela, and Manda Island and its airport are just a short boat ride away.
How to get there
Lamu is best accessed by air and there are usually several scheduled flights per day to and from Nairobi. Some flights also arrive or depart via Malindi. Airlines serving Lamu include :
Flights land at the airport on next door Manda Island. Manda is less than a mile away from Lamu and the boat trip across to Lamu Town or Shela Village takes only a few minutes.  Airport transfers are included in rentals for Beach House.
Visitor's Book
"Beach House was AMAZING! Thanks to the location there is always a wonderful breeze and beautiful view and although we were a very big group, everyone was able to find their space. We really appreciated the configuration of the rooms which gave us one big room with lots of beds for the children to all stay together – and the pool is great for kids of different abilities and ages. Angelika the manager was very responsive and completely professional, helping us to source everything from tonic water to dhows to fire-dancers – we could not have asked for more from a host. The staff were also very organised and flexible, which was specially appreciated as the group included seven children of varying ages. Last, but absolutely not least, Humphrey the chef kept everyone happy with lovely breakfasts and incredible fish and prawns. We feasted on seafood, salads and pasta for four days and everything was delicious! We loved our stay and will definitely be back!"
Alizee, Nairobi
"Beach House is amazing… Angelika the manager is awesome, the staff are great and the homemade ice cream was out of this world!"
Zena, London
Rates
Resident accommodation rates – ksh 120,000 per night for up to 12 guests
Non-resident accommodation rates – US$1,800 per night for up to 12 guests
Bedroom accommodation consists of 4 double bedrooms and 1 'quadruple' bedroom – all ensuite
All stays are on a 'self catering' basis including the services of chef and house staff
Minimum stay – 3 nights, minimum stay over Easter – 5 nights
Maximum occupancy – 12 guests
Rentals include return airport transfers by private boat
Christmas & New Year – Please contact us for the rate, minimum stay – 7 nights
These rates, terms and conditions are valid for stays up until 9th January 2024
Please contact us to make a booking
Please familiarise yourself with all our terms & conditions when making a booking
Availability Calendar
Please click through and refresh the calendar in order to see the most up-to-date availabilities