Maridhiya House, Lamu Town
Step back in time and into Maridhiya House, an outstanding example of a fully-restored 18th Century Lamu townhouse. Charming, authentic and affordable, Maridhiya has 3 bedrooms and sits in a quiet, elevated position within Lamu's UNESCO World Heritage Area.
"Maridhiya House is spacious, comfortable and tastefully decorated down to the smallest details – we all appreciated the comfortable baraza benches on the first and second floors which are perfectly positioned to catch the cooling sea breezes. Kahindi and Dickson served us lovely breakfasts and were always more than happy to please. Thank you all for turning our little break into a memorable holiday!"

Angie and Ludo, Diani
Situated in a particularly peaceful and unspoilt area of Lamu's historic Stone Town, Maridhiya House has been comprehensively renovated with great skill, care and attention to detail. The result is a beautiful, comfortable and very 'liveable' house, and one which retains its many historic Swahili decorative features and authentic period atmosphere.
Maridhiya is entered from a traditional daka entrance porch which leads into a small internal courtyard with palm tree. The impressive Ground Floor reception gallery and kitchen have 13ft (4 metre) high ceilings and a wealth of meticulously restored decorative plasterwork and ornaten zidaka wall niches.
The large and airy First Floor living and dining area also features high ceilings, traditional Islamic masharabya window screens from Egypt, a generous dining table and expansive built-in baraza sofas. Also on the first floor is a double bedroom with four poster bed, en-suite bathroom, ceiling fan and generous wardrobe & cupboard space.
"We had a wonderful stay at Maridhiya House in Lamu and felt very much part of the Lamu community as the house is located within the old town. The house has been beautifully restored. And the people of Lamu! They are kind and friendly and welcoming. Kahindi and Dixon are amazing chefs and fantastic hosts! Thank you Andrew for answering all of my many questions! We would definitely visit again."

Barbara, Canada
The Second Floor Master Bedroom is approached from a breezy roof terrace, part open and part makuti-thatched and with comfortable and shady baraza seats and tables. From here, and from the third floor open-air terrace above, there are attractive and uninterrupted views across neighbouring gardens and rooftops to the Lamu channel and Manda island.
The spacious Master Bedroom runs the entire width of the house and features a king size four-poster bed, ceiling fan, ample wardrobe & storage space and a large en-suite bathroom. On the Ground Floor there is an additional sizable bedroom with single antique four-poster bed and adjoining shower room – best used as an 'overflow' room for children or unexpected guests.
Maridhiya is situated close to Lamu's historic 'Kinoni' whetstone where swords and weapons were sharpened in past centuries – and which gives its name to the surrounding neighbourhood. Also nearby is the charming small 'Tambuni' Mosque – named after the many small betel nut plantations which still exist in the area.
"I'm finally back in the real world after a wonderful time at your house. We did two dhow trips – Manda and Takwa, and did the Museum, Fort, Lamu House, etc. Kahindi's fish curry is the best I have ever had (even better than a fish curry in India!). The house is truly amazing."

Roy, Pretoria
All the attractions of Lamu are within a few minutes' walk of the house – including the Town Square and Fort, Lamu Museum, the seafront and main shopping street – and one of the most enjoyable things to is simply to stroll the narrow streets and alleyways of the Old Town – a townscape and an experience that has changed little in centuries.
Maridhiya is ably looked after by Kahindi and Dixon who will do all they can to make your stay as relaxing and enjoyable as possible – they will collect you from the airport and shop, cook and clean for you as required during your stay. We're happy to recommend Maridhiya as perhaps the nicest small house to rent in Lamu Town – it is ideal for one or two couples or a small family and is always popular. We advise you to book early.
Summary
A classic Lamu town house in a historic setting
Charming, authentic, comfortable and welcoming
Ideal for a one or two couples or a small family
Sleeps 5 in three bedrooms, each with ensuite bathroom
Standard rental rate Ksh 12,500 per night
Detailed Information
2 full time staff
Two double bedrooms with ensuite shower rooms
One single bedroom with ensuite shower room
Ground floor courtyard
Ground floor reception chambers
Fully equiped kitchen
First floor living and dining area
First floor fridge for drinks and snacks
Second floor terrace – part open, part makuti-thatched
Third floor open-air terrace
Location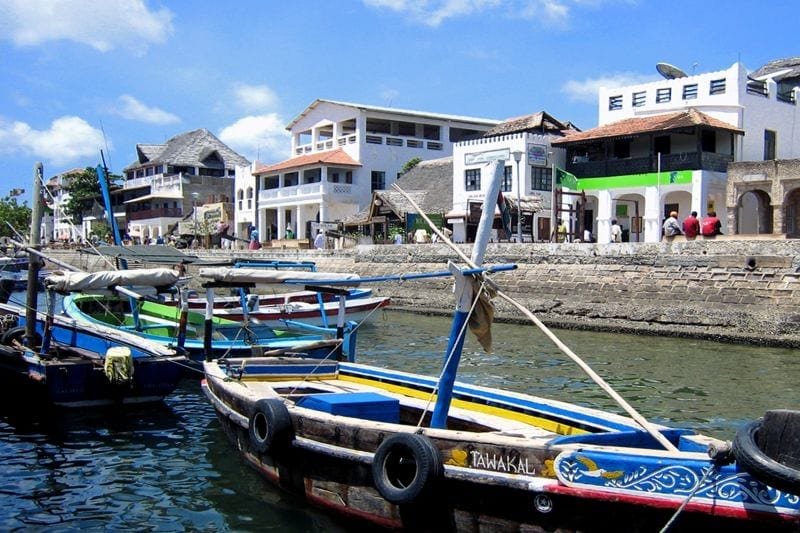 Maridhiya House sits in a breezy elevated position in Lamu Town just 250 metres from the seafront and jetty. Lamu Fort and the Town Square are just a few moments from the house, and Lamu Museum, the main shopping street, Lamu House Hotel and other places to eat, drink and shop are all close at hand. Shela Village and the island's main beach are 3 kilometres south of Lamu Town – about 40 minutes walk or a few minutes by boat. Manda Airport is just over 1km away across the channel.
Visitor's Book
"Maridhiya House is spacious, comfortable and tastefully decorated down to the smallest details – we all appreciated the comfortable baraza benches on the first and second floors which are perfectly positioned to catch the cooling sea breezes. Kahindi and Dickson served us lovely breakfasts and were always more than happy to please. Thank you all for turning our little break into a memorable holiday!"

Angie and Ludo, Diani
"My stay at Maridhiya House was excellent. The third floor bedroom had the nicest breeze and view and I was treated to great food prepared by Kahindi. It was very relaxing and enjoyable and I am sure I will be returning for a longer vacation next time. Thanks to all the staff who made my visit so welcoming."


Melinda, USA
"Asante sana Andrew, Kahindi and Dickson for a lovely stay at beautiful Maridhiya House in Lamu Town. It was great experience for the family to stay in the heart of Stone Town. Back now in Nairobi it seems like a whole world away…"

Sally, Nairobi
"I just spent the last 4 days at this beautiful house and Lamu and highly recommend it. A beautiful house with excellent, attentive staff. Lamu is a special gem to visit – friendly people, very cultural and I felt totally safe. I would definitely go back to visit."

Michael, USA
Rates
Standard rental rate Ksh 12,500 per night.
Minimum stay – 2 nights
Christmas & New Year Ksh 17,500 per night
Minimum stay – 3 nights
Maridhiya House is rented on a 'self catering' basis including cook and housekeeping. Airport transfers arranged for a small extra cost
Availability Calendar
Please click through and refresh the calendar in order to see the most up-to-date availabilities

East African Retreats