The Cabanas, Kizingoni Beach
Remote, romantic and highly relaxing – a collection of new 1 and 2 bedroom beach cottages with pool specially designed for couples and honeymooners, the Cabanas share the same exceptional standards of comfort and hospitality as the Kizingoni Beach houses.
"What a wonderful time we had at Kizingoni. The staff were all lovely and the chef did so well. We look forward to returning again. Thank you so much."

Becca, USA
Kizingoni Beach, with its wonderfully secluded and stylish beach houses, has quickly established itself as one of East Africa's most sought-after destinations – renowned for its peace, privacy and luxury.
Sharing the same wonderful location and excellent service as Kizingoni's larger family houses, is this collection of just five charming rustic cottages – or cabanas – which have been specially designed for couples, honeymooners and (very) small groups.
Each cabana has a spacious double bedroom, ensuite bathroom and covered veranda terrace with living and dining area and lovely sea views. Some are made entirely of mkeka and makuti palm thatch, others have coral stone walls and foundations. All are beautifully furnished with Swahili antiques, local rustic furniture and fabrics and pieces from the Far East.
"We booked a last minute break at Kizingoni Beach and it was fabulous. Kieran, the manager was bright, attentive and professional and the chef created delicious food – from small bitings to a full New Years Eve dinner. We went out on a dhow to watch the sun set, ate supper by candlelight on the beach, had massages, visited Lamu Town and took long walks along the beach. It was blissful. The accommodation is well positioned and well cared-for. I would heartily recommend it and cannot wait to go back!"

Wendy, UK
Sitting on a raised sand dune at the centre of Kizingoni Beach, the cabanas share a fabulous elevated freshwater infinity pool. Beside the pool is a spacious thatched area for dining and relaxing – complete with swinging beds and sun loungers.
Kizingoni's renowned chefs prepare and deliver a delicious daily full-board menu of meals and drinks, which can be enjoyed on the top dining deck or in the privacy of your own cabana. Attentive and discreet staff are always on hand to make sure your stay is as easy and relaxing as possible.
The Cabanas enjoy direct access to Kizingoni's own quiet, sheltered and virtually private sandy beach. A few minutes' walk takes you to miles of empty oceanfront and the dramatic dunes of the island's main beach. Also close by is the charming Kizingo – a low-key beach lodge with bar and restaurant open to non-residents.
"We loved this place because you can just turn everything off and relax – all you need are flip flops, swimming gear and a tee shirt. The food is great and included crab pasta, lobster, sauteed fish and rice – all excellent. At 'tea time' freshly made cake (usually whole and still warm!) is brought to you and resistance is futile. Francis looked after us and was always right there when you needed him and was utterly charming."

Rupert, Nairobi
Situated close to the southern tip of the island, just 30 minutes by speedboat from Lamu Town, Shela village and Manda airport, the cabanas look out towards the Kenyan mainland. They enjoy panoramic views of the Lamu Channel, the Indian Ocean and spectacular sunsets.
Guests have access to a speedboat and captain on request, and a variety of activities and excursions are available by arrangement including trips on Kizingoni's own ocean-going dhow 'Kilindini'. Trips to historic Lamu Town, Shela Village and the archipelago's other attractions can also be arranged.
There are several exciting new developments at The Cabanas for 2019 – these include The Cabana Creperie and Bar where guests can lounge on swing beds right next to the ocean, or perch at the beach bar and order healthy smoothies, crepes, ice creams and drinks.
The Cabana Kite School has all the latest gear and a professional athlete on hand for instruction – it offers bespoke lessons and packages from beginner to advanced level in kite surfing, windsurfing, wake boarding and water skiing. And at the Cabana Zen Den is dedicated to revival and wellness – offering massage therapies, personal training, meditation & professional yoga lessons.
Summary
Specially designed for couples and honeymooners
Rustic chic, excellent food and service
Spectacular elevated freshwater swimming pool
Peace, seclusion and beautiful deserted beaches
Watersports, massage, sailing, fishing – all available
Standard full-board rate – US$220 per resident adult sharing per night
Location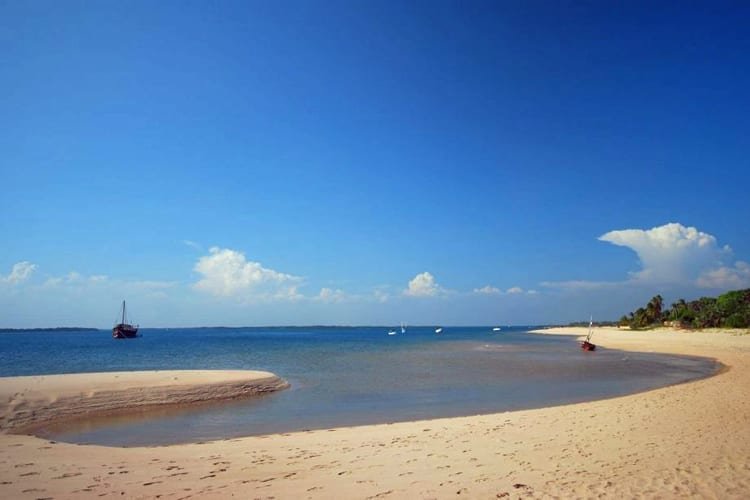 The Cabanas sit on the quiet and unspoilt South West Coast of Lamu Island – the island's main beach starts at Kizingoni, curves around the southern tip of the island and stretches a further 8 golden miles to Shela Village. It is virtually empty, apart from myriad crabs, migrant and local sea birds, shells and the occasional troop of donkeys.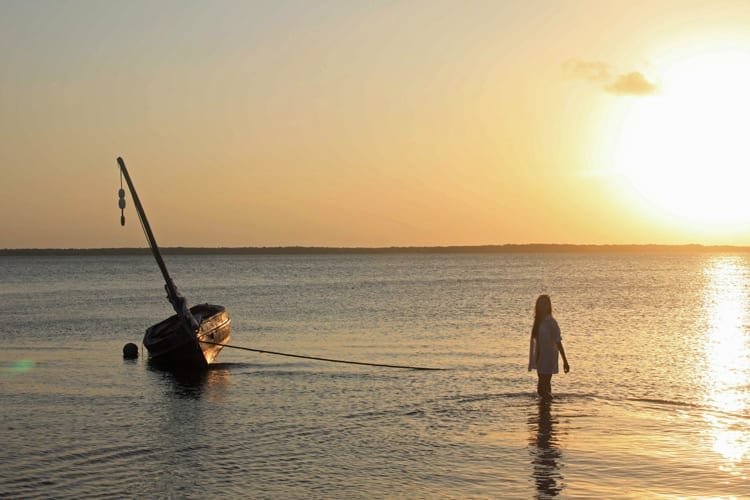 There are not many empty and unspoilt stretches of beach like this left in the world – offering peace seclusion, cooling breezes and clean seas – yet all the historic, cultural, retail and culinary attractions of Lamu Town and Shela Village – together with the airport on Manda Island – are just a 30-minute speedboat ride away.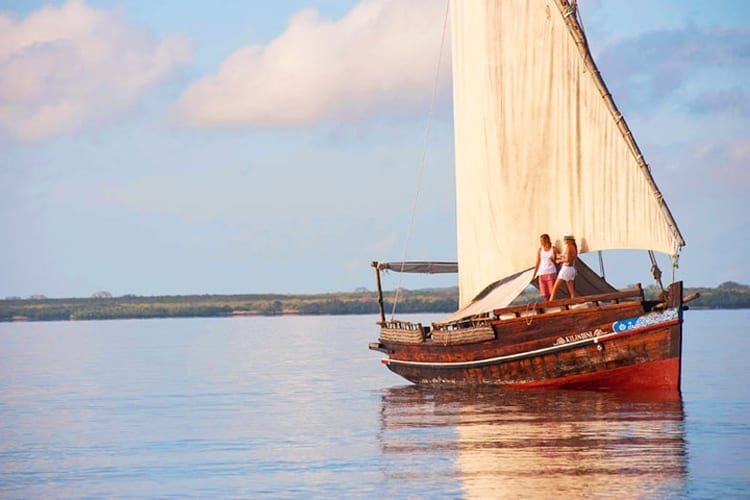 The swimming, snorkelling, walking and beachcombing is excellent and other watersports are available. Nearby are two low-key beach lodges – Kizingo and Kipungani Explorer – each has an attractive bar and restaurant open to non-residents. The sleepy, friendly and unspoilt fishing village of Kipungani lies a mile or so to the north.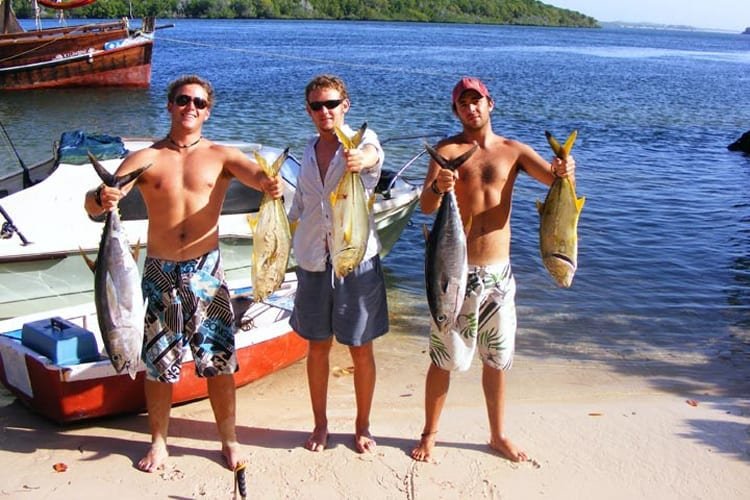 Visitor's Book
"What a wonderful time we had at Kizingoni. The staff were all lovely and the chef did so well. We look forward to returning again. Thank you so much."

Becca, USA
"We booked a last minute break at Kizingoni Beach and it was fabulous. Kieran, the manager was bright, attentive and professional and the chef created delicious food – from small bitings to a full New Years Eve dinner. We went out on a dhow to watch the sun set, ate supper by candlelight on the beach, had massages, visited Lamu Town and took long walks along the beach. It was blissful. The accommodation is well positioned and well cared-for. I would heartily recommend it and cannot wait to go back!"

Wendy, UK
"We loved this place because you can just turn everything off and relax – all you need are flip flops, swimming gear and a tee shirt. The food is great and included crab pasta, lobster, sauteed fish and rice – all excellent. At 'tea time' freshly made cake (usually whole and still warm!) is brought to you and resistance is futile. Francis looked after us and was always right there when you needed him and was utterly charming."

Rupert, Nairobi
Rates
Standard full-board rate – valid from 7th January to 15th December
Resident adult sharing per night – US$220
Single adult per night – US$280
Minimum stay – 3 nights

Christmas and New Year – valid from 16th December to 6th January
Resident adult sharing per night – US$350
Minimum stay – 5 nights

Children 3-5 years are charged at 70% of adult rate, children 6-12 at 50% of adult rate, infants up to 2 years stay free
Accommodation is on a full-board basis including all meals, breakfast, lunch, dinner, afternoon tea
Alcoholic and soft drinks are available at extra cost
Wi-fi internet and laundry are included
One return airport transfer by speedboat is included for stays of 3 nights or more
Private speedboat and captain are available on request (fuel used is charged at cost)
Available at extra cost – water sports equipment and instruction, massages and beauty treatments, yoga classes, dhow excursions
These rates, terms and conditions are valid for stays up until 6th January 2024
Please contact us to make a booking
Please familiarise yourself with all our terms & conditions when making a booking
Availability Calendar
Please click through and refresh the calendar in order to see the most up-to-date availabilities