A lovely new architect-designed Lamu nyumba, Nyota House combines the very best of Lamu design – old and new.  It enjoys an open, breezy position with sea and town views and has 3 double ensuite bedrooms and a gorgeous plunge pool on the ground floor.
"What a great place this is! We stayed for six days but I could have easily stayed longer. The house is a haven of tranquillity – we specially enjoyed the amazing rooftop which has a great view and very comfortable lounge area. There is also a constant breeze so it never feels hot on the rooftop, which made it our favourite place. The house manager was very friendly and resourceful which was a great asset for our holiday. I would definitely recommend Nyota House and I'm hoping to come back again soon. Thanks so much!"

Dieter, Nairobi
Nyota is a house of clean lines and well thought-out spaces – a cool, calm and uncluttered take on a traditional Lamu house – which cleverly incorporates traditional Swahili and Islamic decorative elements such as zidaka niches, carved plasterwork designs, ceiling friezes and mashrabya screens.
A defining feature of Nyota is the spacious freshwater plunge pool built into the foundations of the house. With its inset nyota star design, underwater baraza seats, underwater lighting and waterproof uplighters highlighting the surrounding archways, it is a wonderfully atmospheric place in which to cool off and relax.
The cloistered and very private Ground Floor of the house, entered through a traditional daka entrance porch with baraza seats and carved teakwood front door, also houses an occasional single bedroom and shower room, the downstairs kitchen – and an expansive built-in sofa seat which is ideal for lounging in front of the pool.
"We really enjoyed our stay in Lamu. Nyota House is very beautiful and provides a good feel for Swahili architecture and culture. While the house provides the opportunity to fully immerse oneself in Swahili life and the Old Town, it is also private and peaceful with a beautiful small pool and cool roof terrace."

Koen, Belgium
On the First Floor there are two double bedrooms – each with twin beds and bedside tables and lamps housed under all-enveloping mosquito nets. Each has a spacious ensuite shower room, and ample wardrobe and storage space.
The Master Bedroom suite – comprising double bedroom with four-poster bed, dressing room with built-in wardrobes, ensuite bathroom and living room with sofas and tables – is housed on the Second Floor. All the rooms interconnect – making it a lovely private territory for the master and mistress of the house. The living room can also be accessed from the main stairway and second floor landing – and so can also be used as an indoor family room.
Unusually for Lamu Town, Nyota House is completely detached – with streets and open spaces on all four sides – making it unusually airy and well-ventilated – and the upper floors are further refreshed by the cooling effect of the swimming pool and louvred bedroom window shutters all around the 3-storey central atrium. Should you need any further ventilation there are ceiling fans in all bedrooms.
"Our stay on Lamu was really incredible – such a beautiful, interesting and accessible island to explore! And Nyota House was wonderful – the pictures did not disappoint!"

Katherine, Rwanda
The breezy and part makuti-thatched rooftop houses a semi-enclosed dining room to its rear – its table seating up to eight guests – and kitchen area with cocktail fridge and sink. The central area of the rooftop features spacious baraza sofa seats and tables under the makuti roof, while the front deck is open to the sun and to the beautiful Lamu night sky.
Views from the rooftop are wonderful and unimpeded – one of the great pleasures of a stay at Nyota is observing all the comings and goings of neighbouring rooftops, streets and alleyways, the local birdlife and catlife, the passing parade of dhows and motorboats on the channel – and the arrival and departure of planes at the airport across on Manda island.
Centrally situated in an elevated position in Old Lamu – and just a minute or two from the waterfront and jetty, Lamu House Hotel, the town's museums and main shopping street – all the attractions of the town and island are all close at hand. One can enjoy the bustle of local street life, boat and beach trips and cultural visits – and then withdraw to the privacy, seclusion and relaxation of Nyota.
Summary
Detached and airy position
Lovely ground floor plunge pool
Spacious rooftop dining, lounging and kitchen areas
Less than 200 metres from seafront and jetty
Sleeps 6+ in 3 double/twin ensuite bedrooms
Standard rental rate – KSh 25,000 per night
Detailed Information
Accommodations and facilities
1 double and 2 twin bedrooms
3 ensuite bathrooms
Solar hot water
Plunge pool
Occasional single bedroom on ground floor
Ground floor kitchen
Ground floor shower room
2nd floor internal living room
3rd floor rooftop kitchen & dining area
3rd floor roof terrace living area
Housekeeper and Chef
Smoke detector
First aid kit
Fire extinguisher
Location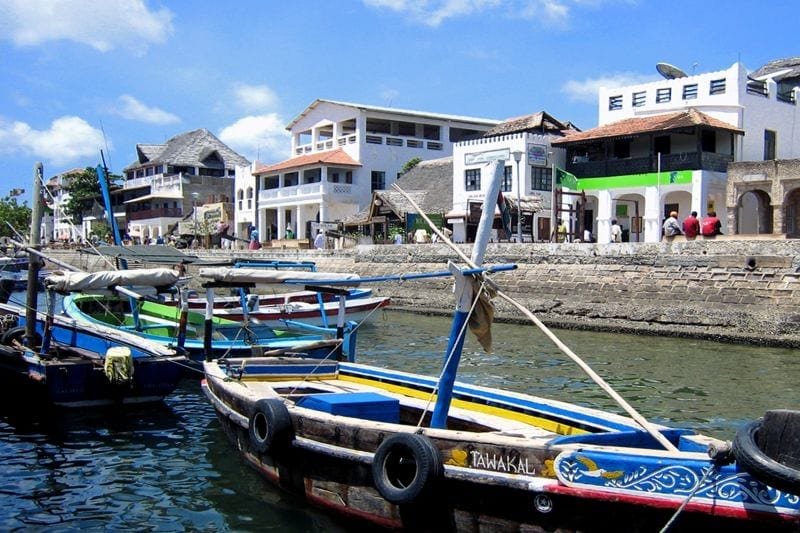 Nyota House is situated in an elevated position in Lamu Town just 200 metres from the seafront. The main boat jetty is a minute or two's walk from the house – as are Lamu Museum, the main shopping street, Lamu House Hotel and numerous other places to eat, drink and shop. The airport on Manda Island is a few minutes away by boat.
Visitor's Book
"What a great place this is! We stayed for six days but I could have easily stayed longer. The house is a haven of tranquillity – we specially enjoyed the amazing rooftop which has a great view and very comfortable lounge area. There is also a constant breeze so it never feels hot on the rooftop, which made it our favourite place. The house manager was very friendly and resourceful which was a great asset for our holiday. I would definitely recommend Nyota House and I'm hoping to come back again soon. Thanks so much!"

Dieter, Nairobi
"We really enjoyed our stay in Lamu.  Nyota House is very beautiful and provides a good feel for Swahili architecture and culture. While the house provides the opportunity to fully immerse oneself in Swahili life and the Old Town, it is also private and peaceful with a beautiful small pool and cool roof terrace." 

Koen, Belgium
"Our stay on Lamu was really incredible – such a beautiful, interesting and accessible island to explore! And Nyota House was wonderful – the pictures did not disappoint!"

Katherine, Rwanda
Rates
Standard rental rate – Ksh 25,000 per night
Low season (May & June) – Ksh 20,000 per night
Christmas & New Year – Ksh 30,000 per night
Minimum stay – 2 nights (5 nights over Christmas & New Year)
The house is rented on a 'self catering' basis including housekeeping and chef
Availability Calendar
Please click through and refresh the calendar in order to see the most up-to-date availabilities