Wazi Dubu House, Kizingoni Beach
Luxurious and laid-back Wazi Dubu enjoys an idyllic and secluded beachfront position and is the perfect retreat for larger families or groups of friends. Relax and experience delicious full-board accommodation, the services of an exceptional team of staff and a private speedboat with captain.
"We spent a week at Wazi Dubu – we were 3 couples and lots of children. The setting is perfect – you just fall out of the house onto the beach. The staff bend over backwards to accommodate you and the food is superb – we had a different flavour homemade sorbet or ice cream daily for 7 days!  The house is big enough not to have to feel you are stumbling over each other. We spend time fishing, running, snorkelling, water-skiing and just lounging in the midday heat. I can honestly say that everybody in the group rated this as the most relaxing holiday they have ever had. We will be back."

David, Nairobi
Wazi Dubu is the southern-most property on Kizingoni Beach. Its spacious, cool design and palm fringed position have made it a great favourite with families and groups of friends alike.
Soft yellow walls, colourful shrubs and tall coconut palms around the central pool courtyard allow complete privacy and security, while the three elevated communal areas – the breakfast roof, sundowner baraza and main dining terrace – provide huge views of the ocean, the beach and the passing dhows.
Entertaining areas are vast and cool, decorated with traditional carved plasterwork and sturdy hardwood furniture. Brightly patterned kanga-covered cushions invite you to sink onto expansive baraza seats or cool swinging beds that are so comfortable you never want to move.
There are bookshelves and bars, intriguing local artifacts, generous pots full of bright green ferns and palms and the discreet, attentive staff, cheerfully carrying trays of fresh lime juice, afternoon tea or something stronger.
The palatial Master Suite, dominated by a huge carved mirror reflecting the facing ocean, has a breathtaking view over the pool, the beach and the sea.  Also on the first floor is a dining terrace with a table long enough to seat 16 comfortably, the perfect party venue!
"Wazi Dubu in our view is probably the best house on the beach – it's a short walk along the sand to the Kizingo bar and the 8 miles to Shela is a must for any would-be runners or anyone who enjoys a fabulous walk along deserted beaches!  The staff are wonderful, and the food is deeeeeeelicious – freshly-caught fish and lobsters from the local fishermen – all of whom are so friendly.  Our daughter is a kite surfer and she was in heaven – it really does seem to be purpose made for kitesurfing (and skiing and wakeboarding) and our son spent most of his time on the beach with the staff getting to know the local fishermen!  The general ambience is perfect to relax in – no air-conditioning because the breeze seems to provide all you need!  I have stayed at many wonderful places, but this is a real discovery, a hidden gem, and we will be back very soon. A wonderful stay."  

Andreas, London
Nothing has been forgotten to ensure guests' comfort. The ensuite guest bedrooms have private terraces, large netted beds and working desks. Even the pool has floating beanbags!  At the back of the garden is a child's climbing frame which has been converted into a fabulous massage area, also perfect for yoga. A separate kitchen, with a laundry and staff quarters stands behind the house.
Situated close to the southern tip of the island, just 30 minutes by speedboat from Lamu Town, Shela village and Manda airport, Wazi Dubu looks out towards the Kenyan mainland and enjoys panoramic views of the Lamu Channel, the Indian Ocean and spectacular sunsets.
Guests have access to a private speedboat and captain, and a variety of activities and excursions are available by arrangement including trips on Kizingoni's own ocean-going dhow 'Kilindini'. Trips to historic Lamu Town, Shela Village and the archipelago's other attractions can also be arranged.
Just next door to the house is the charming and low-key Kizingoni Lodge, whose bar and restaurant are open to all.  The nearby Kizingoni Cabanas – under the same management as Wazi Dubu – have a Creperie and Bar where guests can lounge on swing beds right next to the ocean, or perch at the beach bar and order healthy smoothies, crepes, ice creams and drinks.
The Cabana Kite School has all the latest gear and a professional athlete on hand for instruction – it offers bespoke lessons and packages from beginner to advanced level in kite surfing, windsurfing, wake boarding and water skiing.  And at the Cabana Zen Den is dedicated to revival and wellness – offering massage therapies, personal training, meditation & professional yoga lessons.
For larger parties of up to 50 guests, weddings or other special events there is additional accommodation available to a similar very high standard at the other Kizingoni Beach houses and the Kizingoni Cabanas – please contact us for further information.
Summary
A wonderfully private, expansive and relaxing beach house
Quietly situated on the unspoilt southern tip of Lamu
Multiple living, lounging and dining areas inside and out
12-metre swimming pool, mature tropical gardens
Use of private speedboat and captain
Accommodates up to 10 adults and 2 children in 6 spacious bedrooms
Rates from $245 per night per adult guest 'full board
Detailed Information
Double Bedrooms ensuite: 4
Twin bedrooms ensuite: 1
Twin bedroom, children's, not ensuite: 1
Dining areas: 3
Baraza areas: 3
Guest cloakroom: 1
Massage table
Swinging bed sets: 2
Pool – 12m
Fully equipped separate kitchen
Large garden with established trees.
Laundry room
Beach shower
Powered by wind turbine and solar panels
Solar hot water
Location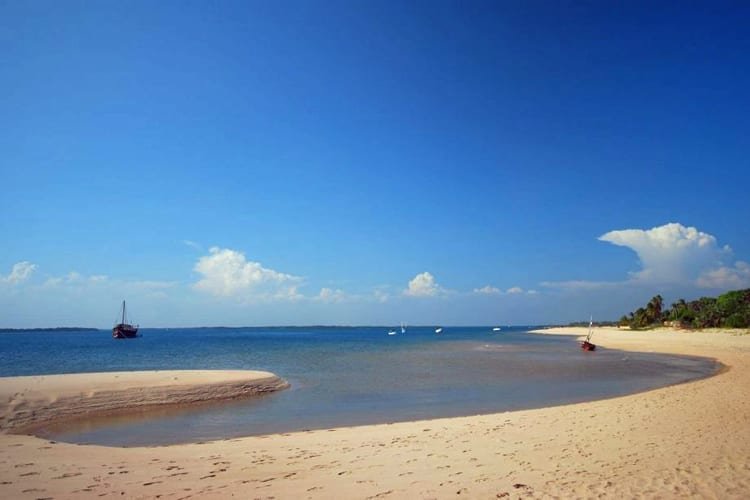 Wazi Dubu House sits on the quiet and unspoilt South West Coast of Lamu Island – the island's main beach starts at Kizingoni, curves around the southern tip of the island and stretches a further 8 golden miles to Shela Village. It is virtually empty, apart from myriad crabs, migrant and local sea birds, shells and the occasional troop of donkeys.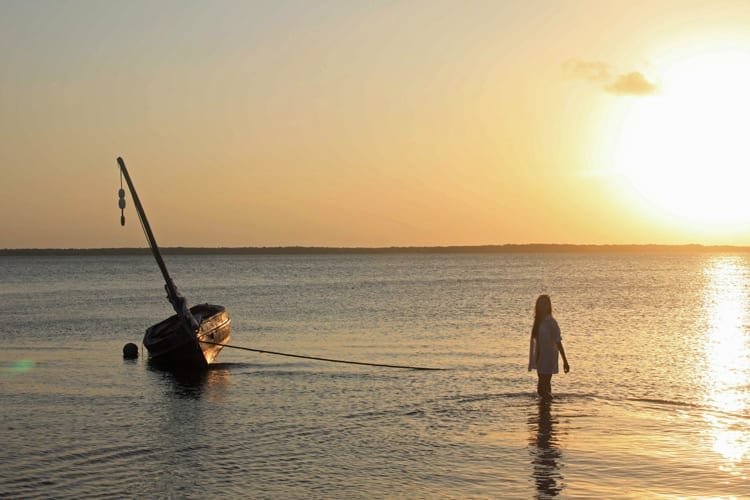 There are not many empty and unspoilt stretches of beach like this left in the world – offering peace seclusion, cooling breezes and clean seas – yet all the historic, cultural, retail and culinary attractions of Lamu Town and Shela Village – together with the airport on Manda Island – are just a 30-minute speedboat ride away.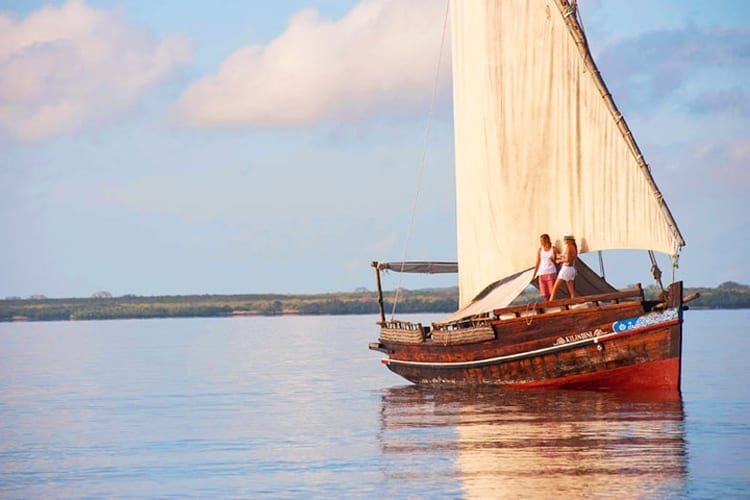 The swimming, snorkelling, walking and beachcombing is excellent and other watersports are available. Nearby is  Kizingo, a low-key beach lodge with an attractive bar and restaurant open to non-residents. The sleepy, friendly and unspoilt fishing village of Kipungani lies a mile or so to the north.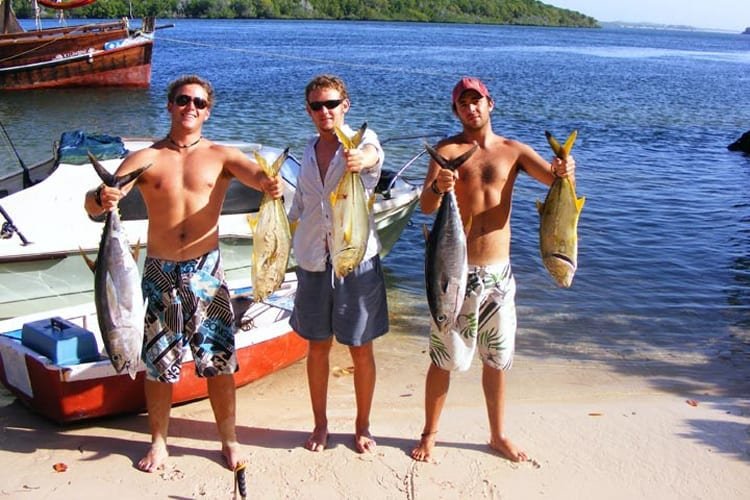 Visitor's Book
"Wazi Dubu in our view is probably the best house on the beach – it's a short walk along the sand to the Kizingo bar and the 8 miles to Shela is a must for any would-be runners or anyone who enjoys a fabulous walk along deserted beaches!  The staff are wonderful, and the food is deeeeeeelicious – freshly-caught fish and lobsters from the local fishermen – all of whom are so friendly.  Our daughter is a kite surfer and she was in heaven – it really does seem to be purpose made for kitesurfing (and skiing and wakeboarding) and our son spent most of his time on the beach with the staff getting to know the local fishermen!  The general ambience is perfect to relax in – no air-conditioning because the breeze seems to provide all you need!  I have stayed at many wonderful places, but this is a real discovery, a hidden gem, and we will be back very soon. A wonderful stay."
Andreas, London
"We spent a week at Wazi Dubu – we were 3 couples and lots of children. The setting is perfect – you just fall out of the house onto the beach. The staff bend over backwards to accommodate you and the food is superb – we had a different flavour homemade sorbet or ice cream daily for 7 days!  The house is big enough not to have to feel you are stumbling over each other. We spend time fishing, running, snorkelling, water-skiing and just lounging in the midday heat. I can honestly say that everybody in the group rated this as the most relaxing holiday they have ever had. We will be back."
David, Nairobi
Rates
Standard Rates
2 guests – $500 each per night
3 guests – $450 each per night
4 guests – $410 each per night
5 guests – $355 each per night
6 guests – $320 each per night
7 guests – $295 each per night
8 guests – $275 each per night
9 guests – $255 each per night
10 guests – $245 each per night
Christmas & New Year
2 guests – $750 each per night
3 guests – $675 each per night
4 guests – $615 each per night
5 guests – $535 each per night
6 guests – $499 each per night
7 guests – $475 each per night
8 guests – $435 each per night
9 guests – $385 each per night
10 guests – $365 each per night
Maximum occupancy – 10 adults and 2 children
Children aged 3-10 are charged 60% of adult rates
Infants under 3 stay free of charge
Included in the rates
Exclusive use of house, grounds and pool
Services of the team of house staff
Full-board accommodation
Private speedboat and captain
Sundowner drinks on dunes
One return airport transfer for up to 8 guests
Use of water skis and snorkelling equipment
Available at additional cost
Alcoholic drinks
Fuel for speedboat
Dhow excursions
Deep sea fishing
Massage and beauty treatments
Wakeboarding and tubing
Airport transfers for additional guests beyond 8 persons
Availability Calendar
Please click through and refresh the calendar in order to see the most up-to-date availabilities